MESSAGE FROM WEBMASTER:
Welcome to My Site.
My name is Lion Diana Wilcox. I am very proud and honored to be the webmaster for this site, with the help of my financee, Lion Wayne Vance, we have spent a great deal of time and effort, researching, asking question's, and getting to know each and every one of the charter members for this club. We are both very honored to be serving in the world's largest service organization, and look forward to helping with the needs of our community. We are both native to this area, and know what it is like to grow up in an area where there is nothing for the youth. We are very proud to be serving with the membership of the St. George-Fundy Bay Lion's Club, and feel that this club can make a difference.
I hope you like our site, and come back to visit often. If you are ever in the St. George, N.B. area please drop in on us, we would love to meet you.
If you live in the St. George area and would like to get involved with this club after viewing this site please contact me.
BE SURE TO SIGN OUR GUEST BOOK BEFORE YOU LEAVE. OUR MOTTO IS "WE SERVE".
LION DIANA WILCOX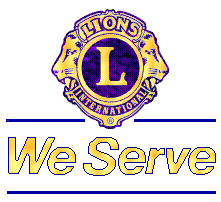 Have a comment?
Send me an Email I'd love to hear from you, liondianawilcox@msn.com
DONATION'S AND SPONSORSHIP
IF YOU ARE INTERESTED IN DONATING TO OR SPONSORING OUR CLUB, PLEASE GET IN TOUCH WITH ME. YOU CAN FIND ALL THE CONTACT INFORMATION ON THE CONTACT PAGE.