NAME: The International Association of Lion Clubs

SLOGAN:
L iberty
I ntelligence
O ur
N ations
S afety

MOTTO: We Serve
OUR DISTRICT IS Multiple District 41 which consists of 41-L State of Maine West, 41-I State of Maine Center, 41-0 State of Maine East and New Brunswick West, 41-N1 New brunswick East and Prince Edward Island, 41-N2 Nova Scotia, 41-S1 Newfoundland West, and Labrador, 41-S2 Newfoundland East.
DISTRICT 41-0 CONSISTS OF 6 REGIONS AND 11 ZONES, HAS 11 ZONE CHAIRPERSONS, REGIONS 1,2,4,5,6 EACH HAVE 2 ZONES. REGION 3 MADE UP OF ONE ZONE. EACH ZONE HAS A ZONE CHAIPERSON WHO IS THE LIASON BETWEEN THE CLUBS IN THAT ZONE AND THE DISTRICT GOVERNOR.***************************************
PLEASE NOTE : THE NEW DISTRICT GOVERNOR FOR DISTRICT 41-0 FOR 2004-2005 IS MR. JACK MOFFIT. LION JACK JOINED THE MC ADAM LIONS CLUB IN 1988 AND HAS HAD PERFECT ATTENDANCE FOR 16 YEARS. SINCE JOINING HE HAS SERVED ON THE BOARD OF DIRECTORS FOR 15 YEARS, INCLUDING 2 YEARS AS KING LION AND 12 YEARS AS SECRETARY.
DURING HIS FIRST YEAR HE WAS PRESENTED THE CLUBS LION OF THE YEAR AWARD, FOLLOWED BY SEVERAL CLUB PRESIDENT'S APPRECIATION AWARDS.
LION JACK IS VERY ACTIVE ON SEVERAL CLUB COMMITTIES AND FUND RAISERS, HAVING CHAIRED MANY OF THESE. HE HAS FAITHFULLY REPRESENTED THE MC'ADAM CLUB AT CABINET MEETING'S CONVENTIONS AND CONFERENCES.
AT THE DISTRICT LEVEL, LION JACK HAS SERVED AS ZONE CHAIRMAN (TWICE), REGION CHAIRMAN,MEMBERSHIP CHAIRMAN, DIABETES AWARENESS CHAIRMAN, TWICE AS CONVENTION (OFFICERS SCHOOL) CHAIRMAN AND VICE DISTRICT GOVERNOR. LION JACK WAS AWARDED DISTRICT SECRETARY OF THE YEAR, AND TWICE EARNED DISTRICT LION OF THE YEAR.
LION JACK RETIRED IN 1993 AFTER TEACHING FOR 35 YEARS IN THE SCHOOLS OF NEW BRUNSWICK. HE IS VERY ACTIVE IN HIS CHURCH AND COMMUNITY, INCLUDING THE MC'ADAM STATION HISTORIC RESTORATION COMMISSION.
HAVING BEEN MARRIED FOR 42 YEARS, LION JACK AND HIS WIFE ELLA ALSO A LION, ARE THE PROUD PARENTS OF TWO DAUGHTERS, CARLA AND LIANN, FOUR GRANDSONS AND ONE GRANDDAUGHTER, THEY ENJOY FOLLOWING THE GRANDKIDS IN THIER ATHLETIC ENDEAVORS.
LION JACK IS LOOKING FORWARD TO SERVING AS DISTRICT GOVERNOR WORKING WITH ALL THE LIONS OF DISTRICT 41-0.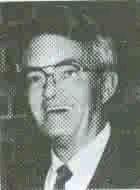 THE EMBLEM:

The Lions Emblem is the Lions faces. Symbolically the Lions faces (face both past and future). PROUD OF THE PAST AND CONFRONTING THE FUTURE. Our original Emblem showed a Lion with a bone in its mouth. The early Lions thought that this might be misconstrued as a Lion chewing on the thigh bone of some other service club's member. As a result they felt a change was necessary. Our new Emblem became official on Dec. 31st, 1921.
The large "L" stands for: LAW, LIBERTY, LABOUR, LOYALITY, LOVE, LIFE, LIONS.
The "L" is on a circle representing Lions and Lions Clubs all bound together as one.
LION'S PROFILE: Looking in every direction. Looking for an opportunity to give unselfish service.
"LIONS" at the top of the Emblem indicating that it is an International Association.
Our role as members is to display the Emblem at every opportunity with pride.
*****************************************************
PLEASE NOTE. OUR EXACT LOCATION IS IN SOUTHWESTERN NEW BRUNSWICK CANADA THIS AREA IS CALLED CHARLOTTE COUNTY
LIONS INTERNATIONAL HAS FOUR CLUB'S SERVICING THIS AREA THOSE CLUB'S ARE.
ST.GEORGE-FUNDYBAY LION'S CLUB
ST.ANDREW'S LION'S CLUB
EASTERN CHARLOTTE LION'S CLUB
ST.STEPHEN-MILLTOWN LION'S CLUB